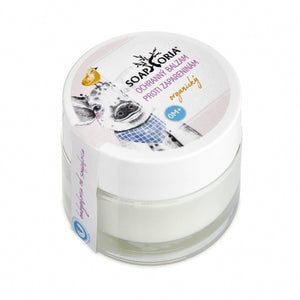 Soaphoria - ORGANIC PROTECTIVE BALM AGAINST DIAPER RASH
Regular price
Sale price
€7,95
Tax included.
Shipping
calculated at checkout.
---
The mandatory equipment of every mother and her baby is embodied in a protective balm against scabies. A gentle nourishing cream for the baby's buttocks made of purely natural ingredients is an ideal choice for daily skin treatment in the area of diapers prone to irritation. Thanks to the carefully selected composition, this balm softens, nourishes, regenerates and effectively protects the skin from adverse effects, helps prevent the formation of scabs and takes care of any redness like a magic wand. Soaphoristic mothers can't praise the cream for irritated baby's skin thanks to the zinc it contains, which helps to restore skin cells more quickly and thus effectively combats any irritation on your baby's skin.

The sunscreen is ideal for all types of baby skin, including sensitive and irritated or very dry.
MAIN FEATURES
> extra soft natural vegan composition created especially for the needs of sensitive baby skin
> Shea and cocoa butter together with borage and coconut oil soften the skin, nourish it and prevent it from drying out
> active ingredients in the form of marigold extract, drops of tea tree oil, lavender essential oil and zinc oxide soothe the skin and speed up its regeneration, reduce itching, burning, redness or any irritation, help prevent inflammation
> the fine texture changes in contact with the skin into an easily spreadable cream, which leaves a fine oil-milk protective film after application
MAIN INGREDIENTS
> shea and cocoa butter - softens and nourishes, they are also excellent for sensitive skin, which they protect and regenerate at the same time
> marigold, lavender - beneficial herbal extracts and essential oils are ideal for the care of sensitive baby skin, which does not irritate but, on the contrary, soothes irritation and itching
> zinc oxide (without nanoparticles) - zinc - a trace element extremely valuable in the care of problematic skin, irritated or injured, supports the renewal of skin cells and the skin's natural defenses, reduces inflammation and eliminates irritation
CONTENTS
50ml
OUR TIP
The baby's protective balm is ideal for repeated daily skin treatments in the diaper area, but you can also use it for minor injuries, abrasions or scratches, dry places or possible sunburn or skin irritated by any environmental influences. It is also an excellent baby cream for dry skin.
OUR RECOMMENDATION
Babyphoria products are carefully designed to complement each other. We recommend combining them with each other and avoiding the simultaneous use of commercial cosmetic products that may affect their effectiveness.

APPLICATION
Apply the appropriate amount of product in a circular motion to the skin in the diaper area after each diaper change. The balm creates a thin protective film.
WARNINGS
For everyday use. Keep out of reach of children. Store in a cool and dry place, at a temperature up to + 30°C and do not expose to direct sunlight and frost. Do not use on open wounds. In case of contact with the eyes, rinse with lukewarm water for at least 15 minutes without interruption from the inner corner to the outer corner (if wearing contact lenses, remove them in advance). Seek medical attention if irritation develops.
Before the first use, it is recommended to perform the so-called Patch test, t. j. apply and test the cosmetic product for its compatibility on a small area of ​​skin, preferably on the wrist and wait 24 hours. This method can prevent the onset of allergic reactions and hypersensitivity to the product. If an allergic reaction occurs after application, wash the skin surface with lukewarm water. Stop using the product immediately. If the allergic reaction persists for a long time, seek medical attention.
INGREDIENTS

Butyrospermum Parkii Butter *, Cocos Nucifera Oil *, Borago Officinalis Seed Oil *, Theobroma Cacao Seed Butter *, Melaleuca Alternifolia Leaf Oil *, Calendula Officinalis Flower Extract *, Lavandula Angustifolia Flower Oil *, Zinc Oxide (zinc oxide, without nanoparticles), Tocopherol (antioxidant, vitamin E), Bisabolol (camomile derivative), Eugenol ***, Citronellol ***, Geraniol ***, Limonene ***, Linalool ***
* certified organic ingredient
*** occurring naturally in essential oils and natural fragrances